SAN ANTONIO
CHRISTIAN SCHOOL
Now enrolling for 2018 – 2019 school year!
Any parent who registers their student(s) before May 30th will receive a $50 pre – registration discount.
SACS is a Seventh-day Adventist Christian school offering grades TK- 8th on a beautiful campus in Ontario, California.
We provide a safe and enjoyable environment for our students to learn and grow mentally, physically, and spiritually. A Bible-based curriculum is at the core of our program, and our staff is dedicated to leading students academically and spiritually.
At SACS, we're proud of all that we are able to offer our students.
SACS Promotional video from Adventist Hermes Justin Wilson on Vimeo.
OUR CAMPUS
---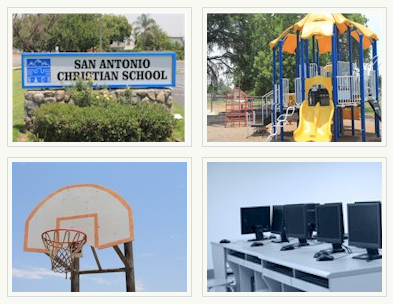 FOLLOW US ON:
---
Facebook: https://www.facebook.com/SanAntonioChristianSchool
---
Don't Miss Any of our News! Sign Up Today.
[/one_half]
GRANT OPPORTUNITIES
---
San Antonio Christian School, in partnership with Southern Adventist University's ASSIST and PFE grant programs, has the opportunity to offer unique tuition assistance to our students. >> Learn More
---
Keep Up-to-Date with EAGLES NOTES
The official newsletter of San Antonio Christian School. Read all about the exciting things that are going on at our school, and keep up-to-date on all of the latest news!
---
Academic Excellence:
As Christians we look to Christ as an example of excellence and the school provides incentives and recognition to achieve this purpose.
---
Spiritual Objective:
San Antonio Christian School strives to provide a Christ-centered multi-faceted education to lead children into a personal relationship with Christ, and guide and motivate students to be successful in all their endeavors.
MEET OUR STAFF
Our teachers strive to provide a Christ-centered and academically superior educational experience, motivating students to reach their highest potential.