OUR STAFF
Catherine Killebrew, Principal
Catherine Killebrew's goals begin with developing deep spirituality, and empowering her teachers to introduce children to Jesus. She places high value on ensuring that children are treated with respect and love. She loves meeting children at the beginning of their academic journey, planting knowledge, and watching it sprout.

Lauren Lopez
Lauren Lopez is our Office Assistant. Her organizational skills and efficiency is a true resource for the school, and she is very patient and great with both our staff and our students. Her commitment to God and loving people makes Lauren a valuable asset.
Sandra Cervantes

Sandra Cervantes is our morning care teacher and classroom aide. Mrs. Cervantes helps students with their work. She also helps the other staff with paperwork like tardy slips and grading. Mrs. Cervantes supervises students during recess and lunch. She is very patient and cares deeply for our students.
Patty Arroyo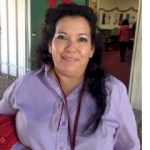 Patty Arroyo is our afternoon aide who helps Mrs. Lopez with Art, Music, PE, and computer. She is also our after care teacher. The students love "Mrs. Patty!" She has a great relationship with our students, and is patient and kind.
Robert Rivera
We call him Commander Robert! He likes to volunteer with the Royal Rangers during his time off. Robert helps to keep our grounds looking beautiful.
OUR TEACHERS
Mrs. Testerman
Mrs. Testerman is our Kindergarten teacher. She loves and cares for her students very much! She will always greet you with a smile, and make you feel loved. She has taught 28 years and her experience shows by the great academic progress her Kindergarteners make.
Mrs. Vessels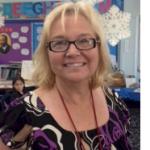 Mrs. Vessels is the 1st and 2nd grade teacher and has taught 20years here at SACS. She is very loving and patient to her students. She loves to read books to her little ones. She teaches her students right from wrong, and knows how to control her students in a loving way.
Ms. Direux
"Ms. D", our 3rd/4th grade teacher has taught for 23 years. 9 of them here at SACS. Her love for her students as well as teaching is shown by the smiles on the faces of her "little Saints." Her differentiated style of teaching allows all students to excel in their own style of learning and have a sense of accomplishment. Ms. D also works with Track, (Cross-Country)and Life Skills (9th/10th graders.
Mr. Caesar
Mr. Caesar has taught here for many years and we admire the patience he has with his students. Mr. Caesar teaches grades 7-10 Science and Math.