TUITION & FEES 2016-2017
---
San Antonio Christian School is committed to providing the highest quality Christian education within the financial resources available. We recognize there is nothing more precious to parents than their children. Consequently, when we accept the responsibility of providing a Christian education for these children, we consider it both a privilege and a sacred trust. In many ways, we enter into a partnership with parents when we take on the awesome responsibility of molding the character and future of each child.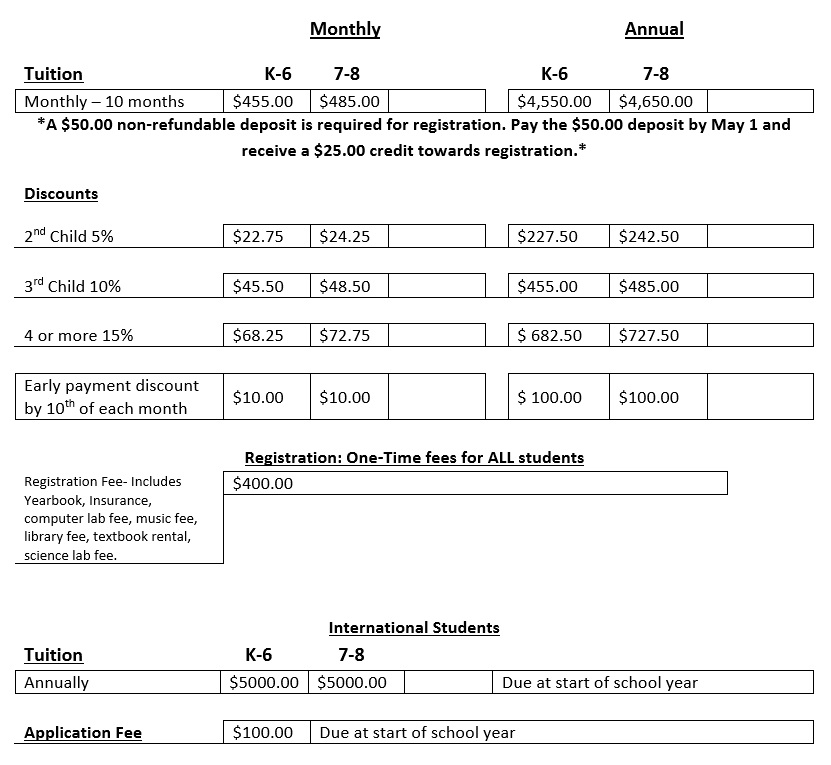 ---
BEFORE & AFTER SCHOOL SUPERVISION
FREE SUPERVISION is provided for all students before school begins and 30 minutes after school is dismissed. After this free supervision concludes, ALL remaining students will be taken to After School Care. Only parents or guardians can sign their children out. Charges for families with multiple children will begin a half hour after the oldest child is dismissed.
After School Care: begins immediately after free supervision ends. Any student, regardless of grade level, who is not picked up by the time free supervision has ended, will be checked into After School Care and charged as follows:
1st child
2nd child
3rd child
$4.00 per hour
$3.00 per hour
$2.00 per hour
Additional children – Free
Late pick-up fee: $1 for each minute after 6:00 p.m. M-TH and 4:00 p.m. Friday.
Sign-in & -out The person dropping off or picking-up the student must sign the sign-in/-out sheet daily.
NOTE: As long as a student is on our campus or a school sponsored activity, they are to adhere to school policy even if their parent has signed out the child.